Obeng signs for the Stags + Bradley signs deal for next season
AFC Totton have signed Silvano Obeng from Team Solent for 2019/20. The former Kettering forward (23) should prove a useful addition to the Stags side for the coming campaign. Obeng netted 25 goals for the University side last term.
On Signing Obeng Louis said "Silvano was part of Solent's lethal strike force for the past few seasons, and he's always been one I've come away from watching thinking I'd like him on our side. His presence and physicality in the forward line should help our attacking players break from deeper. He has good hold up play and is keen to play at the Testwood in the same way Toby came across after he finished his studies. He's a like able character and will fit in well with the group we are building.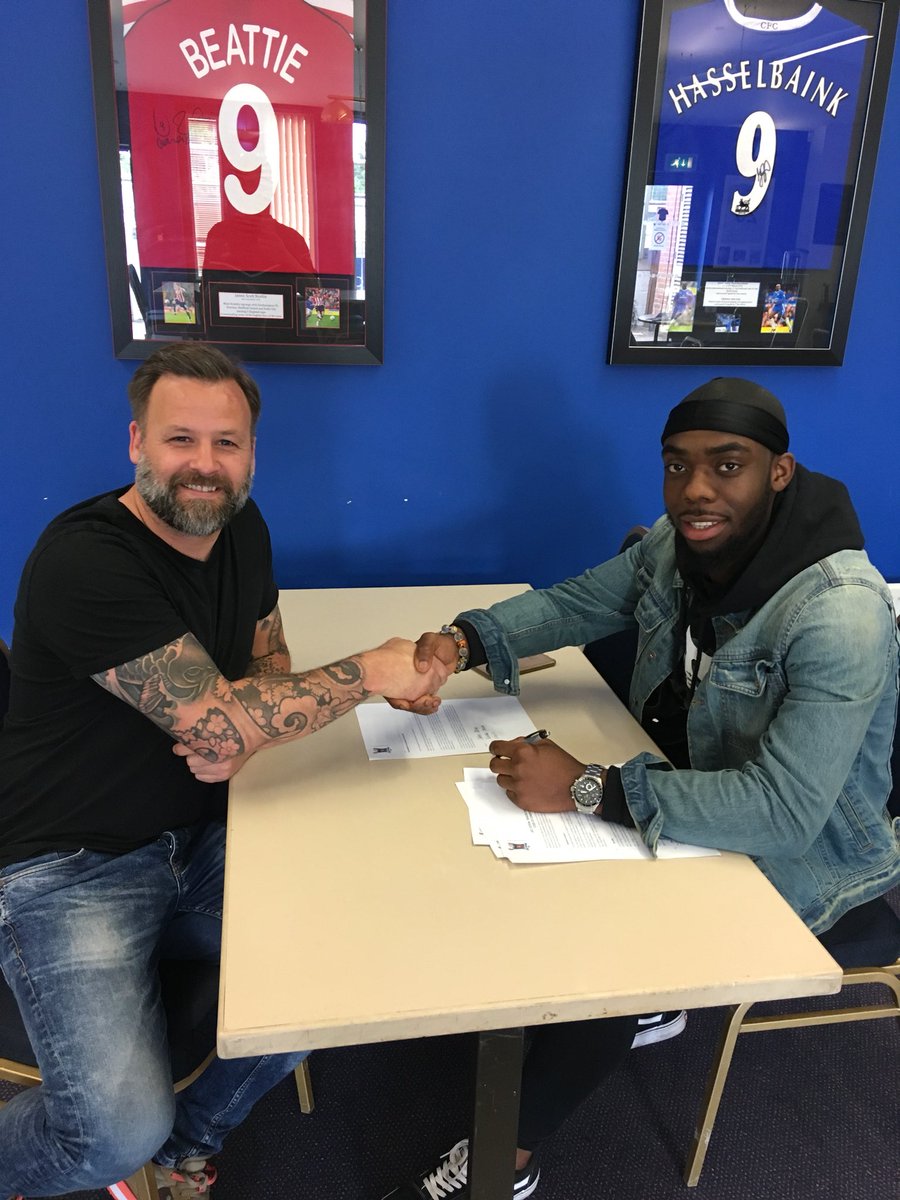 Silvano Obeng with Louis Langdown today
Silvano gave his thoughts on joining the Stags; "Firstly I want to thank God for this opportunity. Secondly, I'm excited to join this amazing club and start a new challenge, aiming to develop and work my ways into the right direction. This group of people have been very welcoming and made me feel part of the family which makes me happy and comfortable. I am confident that a lot can be achieved within this environment and I'm looking forward to meeting the rest of the team"
Stags boss Louis Langdown last night added Ollie Bradley to his squad for 2019/20. The bustling forward, who joined from Sydenhams Wessex AFC Fawley last season showed the Totton fans that he has the ability to be a decent player at this level. Bradley is not the finished article by any means, but the lad has the ability to improve further.
On signing for this season Bradley said "I've enjoyed the training & coaching & felt I was getting fitter each week. It's perfect for me being close to home. I scored a few & managed a few assists last season coming into a team of new lads, so hoping I can add more now I know the players better".
Ollie Bradley
On Bradley Langdown said "Ollie made a big impression in games for us after stepping up 2 leagues. His pace caused problems & he's shown that he has an eye for a goal. We also needed someone to fit in the XL tracksuit we ordered".